Color: A Step-by-Step Tutorial
This is the lecture I have always wanted to present! How, exactly, do I plan and make a quilt? Which comes first, the design idea or the fabric? How to I "hunt and gather" fabric for a quilt? How does pattern affect color in fabrics? For the first portion of the lecture I show digital step-by-step images and describe my methods of choosing, auditioning, and editing fabrics. A trunk show of quilts and wearables wraps it all up.
One hour. Fee: $475.
A Kaffe Fassett Extravaganza
Join Heidi Emmett and me for a fast-paced, fun-filled lecture on one of the biggest names in quiltmaking. Kaffe's patterned, striped, and shot-cotton fabrics have been favorites with quilters—like us—for decades, but he's just as famous for his knitting, needlepoint, and mosaics. Our program includes a short bio (he's a fascinating artist), two brief video interviews in which he discusses his color philosophy and sources of inspiration, and a trunk show of our quilts and wearables made from his fabrics and yarns.
One hour. Fee: $450.
Magic Fabrics/Special Effects
Put simply, magic fabrics give a quilt light and life. Some suggest light coming from below the surface (luminosity) or bouncing across the surface (luster). Others imply that see-through colors overlap to create new color mixtures (transparency). What constitutes a magic fabric? I describe many as "shot with light." They usually display variations in value—light areas among darker areas, or light-to-dark gradations—and they typically contain warm colors. Batiks, hand-dyes, and hand-painted fabrics have a dappled quality; some commercial fabrics appear to "smolder," an illusion that lends depth and warmth to even the simplest quilts.
Twenty-four digital images (I provide the projector), numerous blocks, quilts, garments, and framed pieces. One hour. Fee: $475.
Color! Color! Color! (lecture)
This fast-paced lecture begins with a look at the three color characteristics common to all quilts and garments: value, temperature, and intensity. These terms sound academic, yet they, as much as color itself, are the key to making great quilts. Learn how to use the color wheel to create fresh, unexpected color combinations. Slides of quilts from nationally known quilters are followed by my quilts and a mini fashion show of my garments.
One hour. Slides, color wheel, quilts, and garments. Fee: $475.
Modern Color (workshop)
What is modern color? What kinds of colors/fabrics make a quilt modern? Modern quilts are typically minimal and stylized, with simple, graphic designs. "Modern traditional" combines classic blocks and contemporary colors for a more transitional style. Solids or semi-solids, graphic, stylized, and multi-color prints are embraced by modern quilters; "low-volume" (light-value) fabrics are popular as background pieces or, in larger areas, negative space. Through a series of mock-block (cut-and-paste) exercises, you'll learn basic color concepts (they never change) and explore new ways to use color in your quilts. It's a fresh take on color—and it's fun!
Six hours. Fee: $625. Lab fee: $5.

Modern Color (supply list)
Rotary cutter, mat, and ruler. A 18" x 24" mat is fine for this class.
Glue stick (one or two—make sure they're fresh)
Lab fee is for handouts and my "fabric library" to use if you get stuck.
Fabric
Bring colors from all around the color wheel, in light, medium, and dark values. In addition to the fabrics mentioned above, bring some black-and-white prints/stripes/dots if you have them. I especially like B&W fabrics that are mostly white or cream, with widely spaced black motifs for an open, airy effect. Be sure to include some light-value fabrics to serve as backgrounds or negative space.
We all know what primaries (red, yellow, blue) and secondaries (green, violet, orange) look like. Also bring yellow-green (olive, lime), blue-green (teal), blue-violet (periwinkle), red-violet (magenta), red-orange (terra cotta), and yellow-orange (mango, papaya). These hyphenated colors are widely used in modern quilts.
What fabrics won't work? I don't like to generalize, but muddy batiks, highly realistic patterns, historical prints, and other traditional fabrics don't usually find their way into modern quilts. (There are exceptions, I'm sure.)
Color Camp: A One-day Retreat (workshop)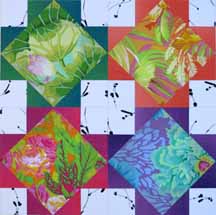 Do you stress when it's time to choose colors and fabrics for a new quilt? Do you wish you had a better "color sense"? You need to go on retreat to gain a new perspective. You need to come to Color Camp!

This no-sew workshop based on Christine's new book, The Quilter's Color Club, consists of cut-and-paste color studies, with lots of help from the teacher and group critique of every block. The first three mock-block exercises focus on value (light and dark), temperature (warm and cool), and intensity (bright and dull). These characteristics, more than color itself, determine the impact of a quilt. An overview of the color wheel and a final exercise expose students to this invaluable (and amazing) tool for quilters. It's lots of creative fun, and you'll leave "Color Camp" with fresh ideas for working with color. Six hours. Mini lecture, exercises, and critique; sample blocks, quilts, and garments. Fee: $625. Lab fee: $4.

Color Camp (supply list)
Rotary cutter, ruler, and mat
Glue stick (make sure it's fresh)
Fabric for exercises (see below)
A color wheel, if you already have one. I provide a mini wheel for every student, or you can buy my color wheel in class ($13). My new color book will also be available in class.
$4 lab fee
To create the most successful color studies, you'll need a wide variety of fabrics in different colors, values, intensities, and patterns. Bring or buy ¼ yard or larger pieces; scraps are fine if they are at least 9" square.

Bring beautiful fabric! I do not want to hear anyone say, "I didn't have time, so I just grabbed some fabric from my stash." You can't learn about color using a handful of rag-tag fabrics! Spend the time and shop to have a broad selection of great fabrics; you'll have much more fun and success with outstanding fabrics than with ordinary ones. Include both multi-colored prints and fabrics that are predominantly one color, such as tone-on-tone. You can work with solids, but be aware that they don't always "marry well' with printed fabrics. Stripes, as you will soon discover, are magical fabrics, so include them too. Also bring a few black-and-white fabrics if you have them.

Hint: I use a lot of mottled or dappled fabrics, especially hand-dyes and batiks, because they add depth and luminosity to a quilt. There are many other fabrics available that are "shot with light," and they work beautifully.

It's very important to have a good mix of values—lights, mediums, and darks—in colors from all around the color wheel. Most of us have plenty of mediums and darks. Lights are harder to come by. Don't go too dark or too light, however; very dark fabrics often read as black, and very light fabrics read as white.

There are twelve colors on the Prang color wheel. Following is a list of these colors, with just a few common names in parentheses to help you visualize what they look like. (In reality, there are many versions of each color.) Try to bring at least one light, medium, and dark for each color.
Yellow (primary yellow, daffodil)
Yellow-green (olive, apple green)
Green (grass green, mint)
Blue-green (turquoise, teal)
Blue (primary blue, slate)
Blue-violet (periwinkle, iris)
Violet (purple, eggplant)
Red-violet (magenta, fuchsia)
Red (primary red, brick)
Red-orange (terra cotta, salmon)
Orange (pumpkin, spice)
Yellow-orange (mango, cheddar)
Organize your fabrics by color. She who brings the most and best-organized fabric wins! I provide a small "fabric library," arranged by color, for you to use if you get stuck. But you should still shop for and organize your own fabrics. When in doubt, buy and bring more fabric!

In this modular quilt I combined solids and prints and separated the horizontal rows in each block with "swizzle-stick" strips. There are only three different block designs, each repeated three times, so it's faster than it might look. My quilt features plain solids, but semi-solid fabrics would work just as well. Black-and-white dotted sashing spaces out the blocks, while four patches tie it all together. My technique for adding the skinny strips makes everything lie flat and straight. Six hours. Fee: $625. Pattern: $8. Email me for the supply list.
Urban Sunsets (workshop)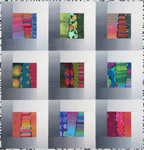 Learn about color, value, and pattern, plus my technique for making super-skinny strips in this modern-quilt workshop. Three related (but not matching) fabrics make up each center unit. Narrow black-and-white strips inserted asymmetrically between the "segments" define and separate the fabrics. You'll also learn how to cut and add the ombré borders to make it appear as if light is sweeping across the surface. (The gray ombré will be available in class.) Six hours. Fee: $625. Pattern required: $15. Email me for the supply list.

It was love at first sight—on Pinterest, no less—when I first saw this graphic block, often with the name of Japanese X and Plus block. What an opportunity for creative work with color! Each block is its own cohesive "color story" and could easily stand alone. Put nine different-colored blocks together, and the bold (almost chaotic) pattern comes alive. The workshop begins with the concepts essential to making each block read—color, pattern, and value. I do a demo on cutting and piecing the block, which is a cinch even for beginners. It's fast, and it's fun! Six hours. Fee: $625. Pattern: $8. Email me for the supply list.

Ombré fabrics, with their subtle gradations in value and color, suggest luster and light in this minimal quilt, which appeared in the Winter, 2014 issue of Modern Patchwork. (If you don't already have that issue, you'll need to buy it from me the day of the class, $16.) The center units are made with Marcia Derse prints and assorted colored ombrés. The outer strips are cut from a gray ombré. Feel free to "make it your own" by using other prints and solid fabrics. Six hours. Fee: $625.

Urban Ombrés (supply list)
Sewing machine and basic supplies
Rotary cutter, mat, and ruler. A 17-inch rotating rotary mat is ideal for trimming the center units and the blocks.
Best Press spray starch. This is invaluable in cutting and pressing the blocks; I like the unscented version.
1¼ yards of gray ombré fabric for the blocks
Chubby eighth or more of nine assorted prints for the center units. Nine different scraps are fine; they must be large enough to cut 4" x 4½" rectangles.
5"-wide strips of nine assorted colored ombrés to surround the center rectangles
1/8 yard of black-and-white striped fabric to surround the print rectangles
¼ yard of white-and-black striped fabric for the narrow outer border
2¾ yards of fabric for the backing and facings (not needed for class)
Transparent Squares (workshop)

Layered transparency—the illusion of layers of see-through color—is surprisingly easy to achieve when the values are just right. In this modern minimalist quilt, light center squares seem to float above the darker shapes. Sections of gray ombré appear to flow underneath the blocks, enhancing the sense of light and movement.

Transparent Squares (supply list)

Sewing machine and basic supplies
Rotary cutter, rulers, and mat. I suggest one 6" x 24" ruler and one 4" x 14" ruler. (A 6" x 12" ruler is too short.)
6½" squares of eight different lighter-value colors
1/8 or ¼* yard of eight different darker-value colors
1½ yards of gray ombré fabric, available in class

*¼ yard allows for a cutting mistake, but you can get by with 1/8-yard pieces.

I used shot cottons, but you can use plain solids or semi-solid fabrics that have subtle, low-contrast patterns. Highly patterned fabrics aren't effective for transparencies.

It's helpful if you can pair a light value and a darker value of the same or a similar color; for example, a light-value orange (peach) and a darker-value orange (burnt orange). They don't need to be exact; see the blocks in my quilt.

Hint: As much as you can, maintain a consistent intensity among your fabrics. That is, don't mix bright brights and muted colors. Six hours. Fee: $625. Pattern: $10.
Lustrous Squares II (workshop)

Simple blocks with "spinning borders" and red flanges stand out against the highly patterned black-and-white sashing in this quilt. The class begins with a group evaluation of students' fabrics, followed by a demo on adding the borders to the blocks using the partial seam technique. I will also demo my method for adding straight, consistent flanges to the blocks before sewing the sashing. Six hours. Fee: $625. Pattern: $10. Email me for the supply list.

Shadowed circles look light-and-airy when framed by sashing. The class begins with a discussion of the role contrast plays in creating successful blocks, followed by a demo on making the shadows and circles, appliquéing the shadows and circles to the background, and stitching accurate sashing. My circles are from Kaffe Fassett prints, but you can use any patterned fabrics. I chose a black-and-white stripe for the shadows (I just couldn't resist) but you can use a solid or patterned black. Six hours. Fee: $625. Pattern (includes template): $12.

Sassy Circles II (supply list)
sewing machine with basic supplies, plus a zigzag or appliqué foot. (You need a foot that allows you to clearly see the needle piercing the fabric. Practice your appliqué stitch before coming to class.)
pattern, available in class
rotary cutter, mat, and ruler
10-inch strips of nine different colored ombrés for background triangles. Kit available in class: $32.
9" square of nine different patterned fabrics for circles (more, if you want to isolate certain motifs in each fabric)
¼ yard of black or black-and-white stripe for shadows
1¼ yards of white-and-black fabric for sashing and binding
1 1/8 yards of backing fabric (not needed for class; can be pieced)
sharp fabric scissors
paper scissors
2 yards or more of freezer paper
neutral or monofilament thread to appliqué the circles
Black Opals & Ribbon Candy (workshop)
You'll see the potential for secondary patterns in other traditional quilt designs after making this quilt—guaranteed! The workshop begins with a crash course in color—value, temperature, and intensity—followed by an evaluation of students' fabrics and step-by-step instructions for making the black-opal units and ribbon-candy segments. We'll also discuss suitable border fabrics. Six hours. Fee: $600.

Black Opals & Ribbon Candy (supply list)
Pattern ($8; available in class)
6" x 12" pieces of 16 different medium-value, intense fabrics for inner triangles
6" x 12" pieces of 16 different darker-value, less-intense fabrics for outer triangles
3/8 yard of medium-value batik* for background squares
2/3 yard of medium-value woven plaid* for background ribbon-candy segments.
1¼ yards of medium-value lengthwise stripe* for background ribbon-cand segments. Note: The stripe I used is now available on Kaffe Fassett's website, www.gloriouscolor.com, item number MUHS-4472, "Blush Multi Haze Stripes." This quantity, 1¼ yards, is enough for two quilts, so team up with a friend
¼ yard of gradated, multicolor fabric for narrow inner border (not needed for workshop)
1 1/3 yards of stylized fabric for outer border and binding (not needed for workshop)

*For the batik, woven plaid, and lengthwise strips, you can use other fabrics, as long as they are similar to the values specified.


Sewing machine with basic sewing supplies
Rotary equipment
Thread to blend with your fabrics
Thangles triangle papers, 4" x 4". Thangles triangle papers are great for this project. They allow you to make just four half-square triangle units from two fabrics, giving you a wide variety of units for your quilt.
Luminosity (workshop)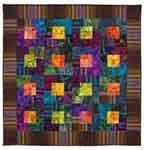 This dazzling special effect is surprisingly easy to achieve, once you understand a few simple concepts: When you surround a relatively small area of warm, intense color with a larger area of cooler, less-intense, darker color, your quilt will appear to glow, as if light and warmth are coming from behind.

This one-day workshop begins with a crash course in color, followed by evaluation of your fabrics to ensure success. Then you'll begin cutting and piecing your blocks. Along the way, I'll have lots of tips for making the process easier and more accurate. I'll also go over how to cut and attach the "spinning" borders. Six hours. Fee: $625 Pattern: $8.

Luminosity (supply list)

Fabrics
Your fabric choices are what make this quilt work. Gather:
Warm, intense colors for the centers of the blocks. On the color wheel, warm intense colors are brilliant yellow-green, yellow, yellow-orange, orange, red-orange, and red.
Cooler, less-intense, darker colors for the strips surrounding the center. On the color wheel, the cool colors are green through violet.
Batiks, hand-dyes, and mottled fabrics that appear to be "shot with light" work beautifully. Study the photo of my quilt to help you choose your fabrics. If you look at the image, you'll see many batiks, but I used a few prints and stripes, too.

For the blocks, you'll need:

16 different squares, each 6½ inches, of warm, intense fabrics.
1/8 yard each of 16 cooler, less-intense, darker fabrics.

If you want to simplify my quilt, you'll need ¼ yard each of eight warm, intense fabrics and ¼ yard each of eight cooler, less-intense, darker fabrics. With these amounts, your fabrics will repeat more often in the quilt and the effect will not be as complex.

A very important note: For your cooler, less-intense, darker fabrics, don't go too dark or too dull. You need a few brighter, medium-dark fabrics to give your quilt life. If your fabrics that surround the center squares are all drab, your quilt will be drab too; this is the most common mistake students make in choosing their fabrics.

For the border and binding, you'll need
1 3/4 yds. fabric for borders and straight-cut binding. To make bias-cut binding, you'll need a total of 2 1/2 yds. You won't need these fabrics for class.
Tools
Sewing machine
Basic sewing supplies, including thread that blends with your fabrics
Rotary ruler, cutter, and mat, A second ruler (such as 6 x 12 inches, or 4 x 14 inches) is very helpful for "whacking" the basic blocks. A 17-inch rotating mat is also very helpful, but not required.
Elegant Circles (workshop)

The workshop begins with a discussion of the role of value in creating depth and volume in a quilt design, followed by an overview of the process for creating the circles, shadows, and background triangle squares. A step-by-step demo of basting the fabric circles using an iron and appliquéing the circles and shadows to the background makes these techniques doable for all skill levels. Six hours. Fee: $625.

Elegant Circles (supply list)
Pattern ($12; available in class)
Circle fabric
Choose fabrics with medium- or large-scale patterns. The circle fabrics should contrast in value with the dark shadow and the background fabrics (below). You'll need enough fabric to cut nine different 6-inch circles—but bring more fabrics so you'll have a variety to audition. Don't cut any circles ahead of time.


Background triangle fabric
My quilt uses two different kinds of fabric for the background triangles: hand-painted fabrics from Elin Noble in the lower left of each block, and slightly variegated solids in the upper right of each block. The most important aspect of your background fabrics is that they contrast with each other and with the patterned circles. Using just two fabrics, you'll need 1/2 yard of fabric for the lower left triangles and 1/2 yard for the upper right triangles. Using a variety of fabrics, you'll need enough to cut nine triangles for the lower left and nine triangles for the upper right. Translation: bring plenty of fabric!


Shadow fabric
I used a subtle charcoal-and-black print, not a solid black. A subtle pattern with some lighter areas keeps the shadows from looking heavy. You'll need 1/4 yard.


Border fabric
Strive for a fabric that contrasts with the blocks enough to make them read as separate from the border. You'll need 1/2 yard. If using a different fabric for each border, you'll need 1/4 yard of each.


Corner squares
You'll be able to cut your corner squares from the triangle fabrics.


Sewing machine with basic supplies, plus a zigzag or appliqué foot. (You need a foot that allows you to clearly see the needle piercing the fabric.)
Rotary equipment
Sharp fabric scissors
1½ yards of freezer paper
Clear and/or smoke monofilament thread to blend with your fabrics

Paper scissors

Fabric markers for light and dark fabrics

Clear tape

Small quilter's iron or travel iron (optional) and insulated pad