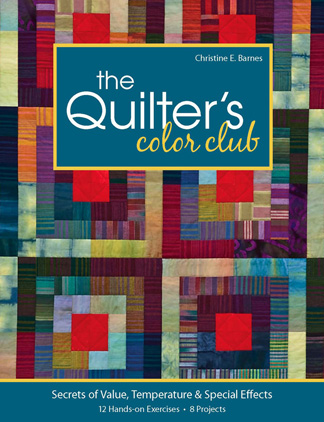 Welcome to my site! I hope you'll find lots of ideas and inspiration on these pages, motivating and encouraging you to work with color in new ways.
You can still see my series "Special Effects with Color" on the "Classroom" page of "The Quilt Show." The lessons are available to everyone, though you'll need to sign up as a "Basic" (free) member using an email address and a password.
"Artistic Alchemy: A Retreat for Creative Sewists and Quilters" is happening! The dates are September 2–5, 2014, at Zephyr Point Conference Center at Lake Tahoe. Sharon Alves, Sandra Bruce, Heidi Emmett, and I will be teaching, and we're so excited about our first retreat together. Check our blog, artisticalchemyblog.wordpress.com. If interested, email me, and I'll put your name on my list of possible students. No need to send a deposit until we get into the new year.
Several of the Gradations ombrés are back in the Store, plus a gorgeous blue ombré best described as "lagoon." I also have a new line of Serenity ombrés, available as yardage or in a pack of seven 10-inch strips. They're more muted than the Gelato line, with a richness that I find irresistible. And I've added two wonderful black-and-white wavy stripes, opposite colorways of the same design. You'll find them at the end of the fabric section.
Sign up for my e-newsletter, "Christine's Color Connection," here. To access back issues, with color lessons on "new-neutral" color, luminosity, "magic fabrics," transparency, visual temperature, and the color wheel, click on Archived Issues.